Insightful Video Clip of the Month:
---
Think about mental health...

Did you know that 1 in 4 Americans or 54 million people has a diagnosable mental health problem? Be proactive about your mental health! Seek the necessary treatment—psychotherapy and/or biomedical therapy—to recapture your optimal mental health.
For learners enrolled at Columbia State Community College, please take advantage of Student Success Counseling services. It may be the best free resource you've ever used.
Also, check out the mental health locator.
The following 60 Minutes presentation is very insightful and thought-provoking:
---
The battle against hate and bigotry in Tennessee continues!
---


JOIN Columbia State's PRISM! (formerly the Gay-Straight Alliance)
Contact Dr. Lacey Benns-Owens, Mr. De'Marcus Jackson, or Mr. Andrew Wright to ask about joining!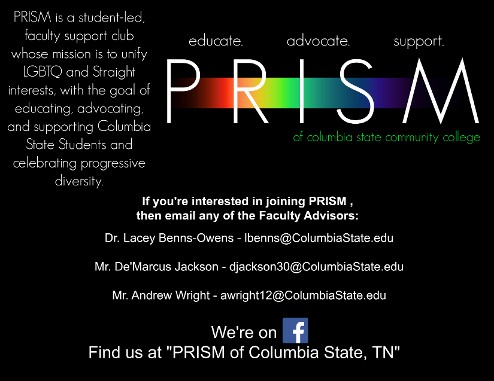 As a proud member of the Lesbian, Gay, Bisexual, and Transgender (LGBT) community, I definitely know how hard it is to cope effectively with the issues and problems that are unique to our community. I "came out" when I was 17-years-old, and although this was the most liberating event in my life, it was only the beginning of a new journey of on-going self-discovery. I am happy to provide currently enrolled Columbia State learners who may be struggling with their gender and sexual identity (or any person who would like more information on issues related to the LGBT community) with good and practical information to assist them.
If you would like to talk, feel free to stop by my office on the Columbia main campus in the Clement Bldg. room 131 or on the Lawrence County campus in room 207L to talk. You can also e-mail me at djackson30@columbiastate.edu.
---